•Conforming to BS5733 & BS7288.
•Mechanically latched
•(No need to reset after a power loss).
•Responsive to both positive and negative cycles.
•230V AC ~ 50 Hz
•Max operating load 13A resistive, 3A inductive
•Trip speed less than 40mS(typical).
•30mA trip current to minimise electrocution and fire risk.

RCD Fussed spur metal clad
Code:6647MS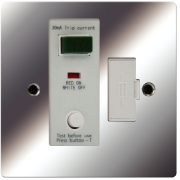 Code: 6647XXX
suffix XXX means different edged plate and different finish such as Chrome, Brass, Black Nickel...